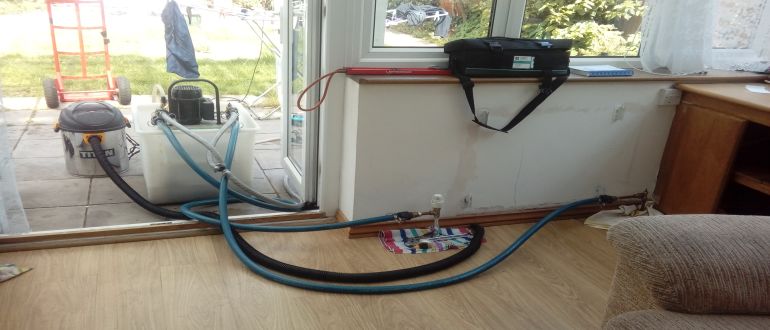 I get mixed reactions from people when I mention the dreaded word Power flushing. The majority of landlords, tenants and home owners, think it's a money scheme which has been invented to empty their pockets. I have written this article in order to inform people why our central heating systems need to be power flushed, as well as ways to prevent boiler breakdowns from happening.

If you think about your central heating system, all the different components are made from dissimilar metals. Pipes are made from copper, radiators from steel and valves are made from alloys, which are combinations of metals. These dissimilar metals all react with each other, which causes the metals to rust. This rust is then absorbed by the central heating water, which forms into a more dense sludge like substance. This dense substance is then harder to move around the system and becomes lodged in radiators, valves and narrow sections of pipe-work.

This sludge will also have a negative affect on your central heating boilers, as the more dense water will be harder heat and move away from the boiler.Boilers work by moving re-heated water away from the boiler using a pump. So if this water takes longer to heat and longer to move, it will then cause theboiler itself to run hot. Once the boiler gets too hot it will shut itself down, fail to work. It wont re-light until the boiler senses a significant temperature drop.

You should aim to have your boiler flushed annually, by having an engineer circulate a cleaning chemical around your central heating system. This should then be removed and replaced with a corrosion inhibitor. These inhibitors have a life span of one year, hence the need to have the system flushed yearly.

This cleaning and inhibitor process will keep your central heating system running, however it will only slow the corrosion process down. After years of treating central heating systems, we have devised that regular flushes should be carried out yearly, then a power-flush every four years.

The power flushing process uses a high velocity pump, which helps to breakdown excessive sludge build up. It will pump between 50-100 litres of water around the system per minute and offers a more effective cleaning and removal process. If you have any questions about power flushing, or would like to discuss your system in more detail, then drop us an e-mail and we will get back to you promptly.
Benefits of power flushing
Removes corrosion/sludge
Prevents component damage
Boiler works more efficiently
Utilty bills should decrease
Less boiler breakdowns
Who we are
Our company TTPP Plumbing & Heating are based in Acton W3 and offer Power flushing to people in the local area. We keep our prices low, but quality of workmanship high. So if your looking for a professional service at an affordable price, then definitely get in touch.
Power flushing services are offered from £300-£500 dependent on the number of radiators and the condition of the system. These prices are based on systems which are sealed and on a combination boiler system. So before booking we can run you through on how to check, to prevent price rises.
Thanks TTPP, for a superb job. Our new boiler is fantastic and we are so pleased with the brilliant job you did.
-Julie Corrigan from Essex